Student and Staff Freedom of Speech Rights and the Confederate Flag
Schools strive to be places of inclusion where all students are treated equally in their quest for knowledge. OSBA's recommended Board policy, AC-Nondiscrimination, speaks to the legal requirement of schools to be free from discrimination. However, as schools are microcosms of society at large, racial tensions often bleed into the school environment. For many, the Confederate flag is a symbol of racism and intolerance and many schools have responded to this by banning the Confederate flag on clothing at school.
Is this a first amendment issue? Are schools allowed to ban Confederate flags?
The simple answer to both questions is yes. If the school meets the requirements to regulate speech set forth by the Supreme Court's decision in Tinker v. Des Moines Independent Community School District. The Court held schools can regulate speech when they can show "facts which might reasonably have lead school authorities to forecast substantial disruption of or material interference with school activities." 393 U.S. 503 (1969). Tinker further stated that any action needs to be motivated by more than just a desire to avoid the unpleasantness of differing opinions. This fact specific analysis is specific to each individual school district and schools need to show facts which substantiate their belief that the speech being limited has the potential to cause the feared substantial disruption. This analysis is not limited to Confederate flags.
The Ninth Circuit Court of Appeals followed the Supreme Court ruling in Tinker when it upheld the school's decision to prevent students from wearing American flags shirts to school. Caucasian high school students who attended Live Oak High School in California were asked to remove their American flag shirts when they wore them as a protest to the school's Cinco de Mayo celebration. The principal gave the students three choices. They could remove the shirts, wear them inside out or go home. They were not disciplined for wearing the shirts to school. Parents of the flag wearing students sued the district claiming student's right to free speech was violated. The court held for the School District because there was a clear history of violence between Caucasian and Hispanic students at the school and officials were concerned for the safety of the American flag shirt wearing students. These students received numerous violent threats the day they wore the shirts to school and this gave the District concrete factual evidence of racial tension which could lead to a substantial disruption.
What about the rainbow flag? Can they be banned?
A rainbow flag displayed in a classroom is there to create an atmosphere of inclusivity. It informs a legally protected class of people that they are welcome in the space. This falls under a district's Nondiscrimination policy and should not be prohibited. Similarly, the display of an American flag by a school is not only required by Oregon state law, it is not displayed with the purpose of antagonizing a group of people but rather as a show of patriotism. The analysis is whether there are facts existing which make displaying or wearing a certain symbol or flag likely lead to a substantial disruption. Administrators do not have to wait for a disruption to occur but should make sure they have facts to support their decision. Not all forms of speech are guaranteed to lead to a substantial disruption.
Are any flags required in schools?
Yes, Oregon law requires schools to display certain flags on school grounds. A United States and Oregon State flag must be displayed upon or near each school building and a sovereign tribe government flag must also be displayed on, near, or within a school building upon request from an Oregon Sovereign tribal government. A National League of Families' POW/MIA flag is required at public building if the infrastructure allows or if the building was built after January 1, 2018. The only flag that is required to be on display in each classroom is the United States flag.
Student and Staff Freedom of Speech Rights (webinar recorded October 17, 2018)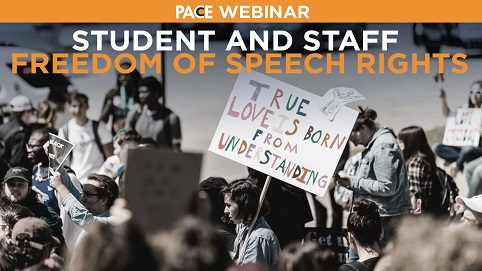 Walkouts, t-shirt slogans, confederate flags, rainbow flags, taking a knee, chants about building walls, and whatever comes next. Come listen to two of our OSBA/PACE attorneys give a 30 minute overview of student and staff free speech rights. They will give you guidance regarding what you should prohibit, what you can prohibit, and what you cannot prohibit.
Video Recording: